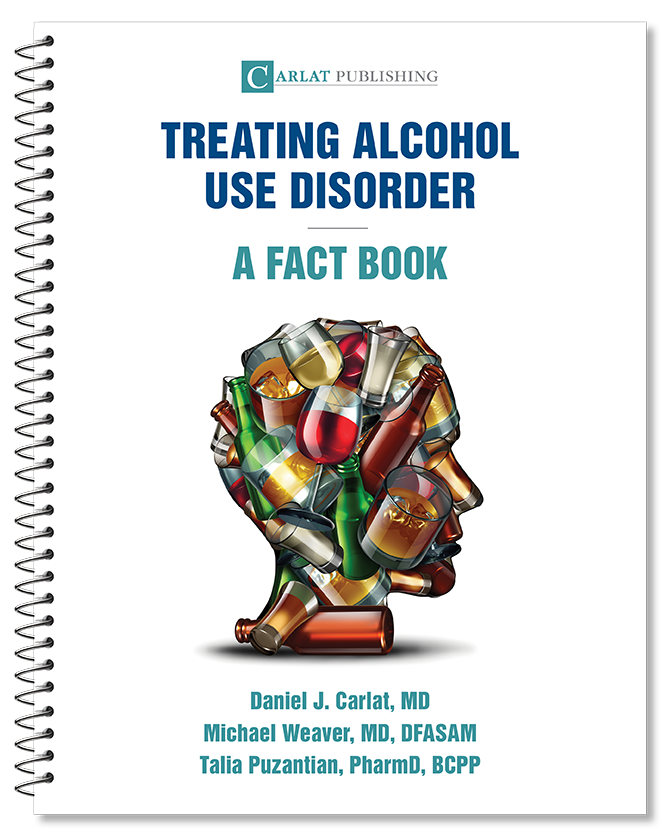 Treating Alcohol Use Disorder: A Fact Book (2023)
Also Available:
Product Details
Temporarily Out of Stock - PDF Version Is Available
Order your print copy by purchasing this product. The book is 54 pages and spiral bound. Includes instant access to the PDF/eBook and 6 CME post-test. Print copy will ship in April 2023.
This latest Carlat Fact Book provides you with all the tools and information needed to assess and treat your patients who are struggling with alcohol use disorder. Unlike traditional textbooks, this Fact Book distills each critical aspect of clinical decision making into a single sheet, with tips and bullet points that you can use at the point of care. Topics covered include assessing severity of use, treating withdrawal symptoms, use of basic therapeutic techniques, and appropriate prescription of medications for alcohol use disorder. 
PRACTICAL TOPICS INCLUDE: 
Tips for the initial assessment
How to use motivational interviewing
How to use cognitive behavioral therapy techniques 
How to conduct a family meeting 
Withdrawal time course and symptoms 
How to use phenobarbital to manage withdrawal 


MEDICATION FACT SHEETS INCLUDE: 
Naltrexone (ReVia, Vivitrol) 
Acamprosate (Campral) 
Disulfiram (Antabuse) 
Gabapentin (Gralise, Horizant, Neurontin) 
Topiramate (Eprontia, Qudexy XR, Topamax, Trokendi XR)