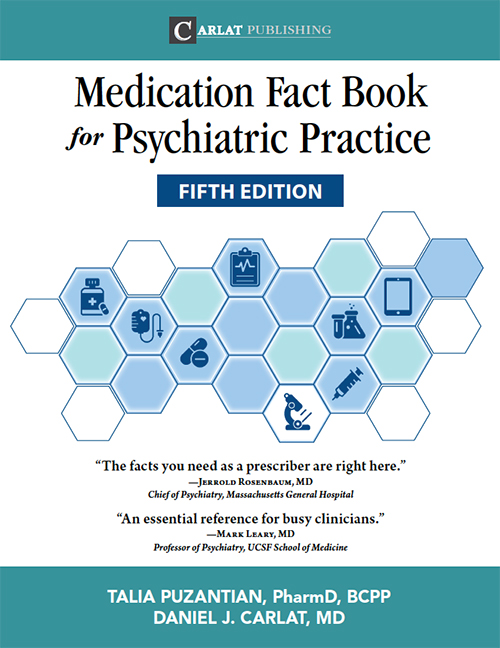 The Medication Fact Book for Psychiatric Practice, Fifth Edition (2020)
Product Details
The Medication Fact Book is a comprehensive reference guide covering all the important facts, from cost to pharmacokinetics, about the most commonly prescribed medications in psychiatry. Composed of single-page, reader-friendly fact sheets and quick-scan medication tables, this book offers guidance, clinical pearls, and bottom-line assessments of more than 100 of the most common medications you use and are asked about in your practice.
This fifth edition reflects the availability of newer strengths and formulations, as well as generics. New clinical data have been incorporated into the fact sheets from the previous edition.
Versions of this book can be purchased with a 12-credit CME online post-test.
Click here to view the table of contents, a sample chapter, and an example of the new algorithm flow charts (PDF).
Get the information you need at a glance: 
Off-label uses
Dosages and generic availability
Mechanisms of action
Cost information
Bottom-line impressions
This revised edition features: 
148 fact sheets, 17 of which are brand new
30 updated reference tables, 8 of which are brand new
New sections on medications for treating restless legs and using somatic therapies like bright light therapy, electroconvulsive therapy (ECT), transcranial magnetic stimulation (TMS), and vagus nerve stimulation (VNS)
Plus, 9 new treatment algorithms—these flowcharts offer easy-to-follow guidelines for treating adult ADHD, depression, psychosis, anxiety, dementia, insomnia, bipolar mania, alcohol use disorder, and opioid use disorder