Updates from the 2023 International Bipolar Conference: Avoid valproate (Depakote) in women of childbearing age; who to blame when patients are noncompliant; and functioning trumps symptom reduction.
Publishing On: 8/28/2023
Duration: 12 minutes, 20 seconds
Transcript:
CHRIS AIKEN: Today, you'll learn when to avoid Depakote, who to blame when your patient doesn't take their meds, and which comes first: symptoms or functioning. It's all in our updates from the 2023 International Bipolar Conference.
Welcome to the Carlat Psychiatry Podcast, keeping psychiatry honest since 2003. I'm Chris Aiken, the editor in chief of the Carlat Report. And I'm Kellie Newsome, a psychiatric NP and a dedicated reader of every issue.
KELLIE NEWSOME: Last June we flew to Chicago for the International Bipolar Conference, and since then we've been counting off the practice changing updates from the conference. Here's a recap
1. Screen for bipolar disorder with a tool that looks at signs and symptoms of the illness, like the Rapid Mood Screener or the Bipolarity Index
2. Use more lithium
3. Move lurasidone up in your treatment algorithms now that it's generic, and keep Robert Post's three L's on the tip of your tongue for bipolar depression: Lithium, lamotrigine, and lurasidone.
Today we're going to bum rush the show with a barrel full of updates, but first a preview of the CME quiz for this episode. Earn CME credits through the link in the shownotes. 
1. Mood charting is helpful in bipolar disorder, but it is essential for monitoring which phase of the illness
A. Depression
B. Mania, hypomania, and mixed states
C. Maintenance
D. Rapid cycling
Update #4
Avoid valproate in women of childbearing age
Valproate (Depakote) entered the bipolar field in the 1990's, and it came with all the swag that branded medications bring, over-hyping its benefits and downplaying its risks. Now we see this med with a more sober eye. Its long term benefits are not as good as lithium's – and unlike lithium it doesn't seem to prevent suicide or improve any long-term health risks. While lithium prevents dementia, there's some new studies showing a possible dementia risk with valproate. But what has really put valproate in the corner is the risks for women of childbearing age. Valproate is more teratogenic than any other psychiatric med. It can also cause male-pattern baldness, weight gain, and can raise testosterone – possibly even causing polycystic ovarian disease. But the main reason we're warning against it is for pregnancy. 
There's not much new in what I've just said. We've known since 1980 that valproate is teratogenic, but what is new is the way we think about women and fertility in medicine. There's been this old school view that women are responsible for whether or not they get pregnant, and without getting too deep into politics I hope you can see that that kind of thinking could lead to restricted access to abortions, as in "women just need to use protection and abstain from sex," and to excessive valproate prescription, as in "it's not my fault, I warned her not to get pregnant on the drug."
CHRIS AIKEN: That's a nice segway to #5: When things go wrong in treatment – even if it's because your patient is non-compliant with their meds – assume it is your fault. That simple attitude check came from one of our Brazilian colleagues, who shared felt that physicians had much better relationships with their patients in Brazil because malpractice is rare in that country. Patients are more appreciative, doctors are not defensive, less likely to blame the patient. "If my patient doesn't take their medication, I assume the fault is mine." 
KELLIE NEWSOME: Upgrade number 6: Rate the symptoms
If you're not taking some measure of mood at every visit, you are no different from a cardiologist who never checks blood pressure. Even better if you can get your patients to do mood charts – this is tedious for them, so we use a weekly chart instead of a daily one. You can find templates at moodtreatmentcenter.com/measure. I'll insist the patient complete these if they are having rapid cycling, because that's an illness where you will otherwise get totally lost in the ups and downs, thinking your new med is working when it really just shot them up into a more vicious cycle. 
At the most basic level, ask your patient to rate their overall mood, wellbeing, or functioning from 0 to 10 at each visit. After a 6-12 months, look back at the scores – hopefully in a visual graph. You'll pick up on a lot of patterns – seasonal depression, times when they got a little better on a treatment but gave up too soon and then got worse. Many of our therapies take a few months to show their true effects – particularly lithium and lamotrigine – and a few months to wear off. You're not going to pick up on those trends by asking the patient if their medication is helpful.
CHRIS AIKEN: Many of the talks at the international conference are led by patients, and our next update comes straight from the leaders of the DBSA Depression and Bipolar Disorder Alliance: Aim for functioning, not just symptom reduction. They surveyed their members about what was most important in recovery, and here are the top items:
1. To be independent or act according to my own will
2. To have a purpose in life
3. To get through the day
4. Self acceptance
Notice none of them are bipolar symptoms. Hagop Akiskal made the same point in his textbook Bipolar Psychopharmacology, where he laid out 25 basic principles of working with bipolar disorder. Kellie can you read #7.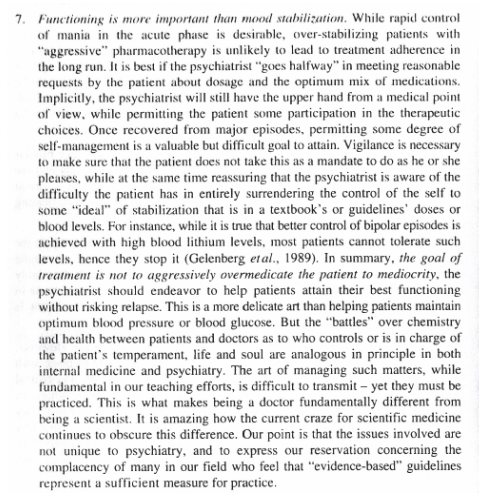 KELLIE NEWSOME: And now for the study of the day…. Efficacy of cognitive remediation in bipolar disorder: systematic review and meta-analysis of randomized controlled trials 
CHRIS AIKEN: 10 years ago psychiatrist Edward Vieta developed a group therapy for bipolar disorder. It was basic psychoeducational stuff, and it worked. It taught them about the early warning signs of mood episodes, self-management strategies, medication options, and the importance of prevention. Then he shifted. He scratched this psychoeducational model in favor of cognitive remediation, a group therapy that targeted cognitive symptoms of bipolar. There was little talk about depression and mania. Instead, patients worked on active exercises to sharpen their cognition – doing crossword puzzles and reading books – and on ways to compensate for their cognitive problems – like using calendars, to-do lists, organizing their belongings so they are easy to find, using memory aids, and keeping a journal to preserve some day to day continuity in the midst of all that forgetfulness. 
    The first controlled trial was promising. Cognitive remediation didn't seem to sharpen cognition much at all, but it did improve functioning. It seemed the cognitive crutches were the key part – helping patients to live fuller lives as they overcame their problems with planning and remembering. 
    Since then many more trials of cognitive remediation in bipolar disorder have come out, and they've turned that first study on its head. Today's metaanalysis looked at 10 of those trials, and concluded that cognitive remediation did sharpen cognition directly, but the effect was small. And despite that early promising report, the therapy did not improve functional outcomes when all the results were tallied together.
KELLIE NEWSOME: Join the conversation and get daily research updates from Dr. Aiken's Daily Psych feed, now available on Facebook, and as always on LinkedIn, Twitter, and Threads– just search for ChrisAikenMD.
CHRIS AIKEN: Join us next time, where we'll look at light and dark therapy in bipolar disorder.
KELLIE NEWSOME: Earn CME for this episode from the link in the show notes, and get $30 off your first year's subscription to the full journal with the promo code PODCAST. The Carlat Report is one of the few CME publications that depends entirely on subscribers. Thank you for helping us stay free of commercial support.