Stories that color-in the stark lines of evidence-based medicine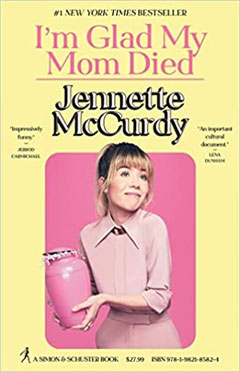 I'm Glad My Mom Died
Jennette McCurdy ۰ New York: Simon & Shuster; 2022
Dr. Whisler:
Have you ever heard expressions of shock when discussing victims' tendency to stay with abusers? Or suggestions by well-meaning individuals to adult survivors to cut off their abusive parents? Professionally we know these relationship dynamics are complicated and it can take years of therapy to develop insight and a healthy sense of self or boundaries.
In I'm Glad My Mom Died, Jennette McCurdy tells her story of growing up with who she describes as a narcissistic mother and the myriad ways in which abuse shaped her life. Often relying on humor to balance the horror, Jennette recalls many experiences with a clarity and frankness that offers a case study into the all-encompassing impact of early life complex trauma. As a child, Jennette was keenly aware of the need to suppress her own needs and desires to accommodate her mother's. Not doing this might shatter her mom, their relationship, and possibly herself. Jennette frequently recounts her mother's manipulative behavior that vacillates between extremes, such as idealizing and dismissing Jennette in an exaggerated manner. As Jennette gains greater independence, she remains fiercely attached to and protective of her mom, even when doubts surface. 
Her doubts are fleeting, perhaps in part because along the way, her mom also emphasizes the dangers of the outside world. Men, women, and her father are all treacherous. The only person to trust is mom. Of course, Jennette idealizes her—to do anything else would be terrifying. 
Donald Winnicott theorized that the premature attending to others disrupts the process of developing the true self (Winnicott DW. Ego distortion in terms of true and false self. In: Winnicott DW, Ed. The Maturational Process and the Facilitating Environment: Studies in the Theory of Emotional Development. New York: International Universities Press, Inc; 1960: 140–57). From her earliest memories, Jennette demonstrates a profound ability to discern and scrutinize micro-expressions of those around her. Her endless surveillance of her mother's moods prevented any emotional growth and she was consumed by feelings of anxiety and shame. These emotions rippled pathologically into all aspects of her life—her relationships with romantic partners, food, substances, her family, and herself. Her disordered sense of self was further entrenched by her years working in the entertainment industry, where abuse is rampant, and her ability to mold herself into character was celebrated. Towards the end she writes:
"What is my identity even?...How would I know? I've pretended to be other people my whole life, my whole childhood and adolescence and young adulthood. The years you're supposed to spend finding yourself, I was spending pretending to be other people. The years that you're supposed to spend building character, I was spending building characters."
Dr. Higgins:
It's impossible to be a specialist in all mental disorders. We tend to develop a niche, learn it well and rarely stray. For patients with problems outside our comfort zone, we know enough to pass the boards and, in a pinch, prescribe appropriate medications.* A full understanding of the nuances of all disorders is beyond us . . . or at least me. 
Popular books like Jennette's memoir give in-depth case studies which allow us to walk with the subjects as they experience their symptoms and self-destructive behaviors. Jennette struggles with several problems, including anxiety and addiction, but it's her conflicted approach to food and body image that let me look behind the curtain. 
Jennette starts the book at the age of 21 when she and her three older brothers sit at the bedside of their comatose mother. Each child clings to the belief, if they tell their mother something especially endearing, she'd awaken from her stupor. "I'm getting married," says one brother. "I'm moving back to California," says another. Jennette pulls out the big guns: "Mommy. I am . . . so skinny right now. I'm finally down to eighty-nine pounds."
The problem with food started for Jennette when she was 11 years old. She felt a lump in her breast which she worried was cancer. Her mother assured her the lump was a part of normal development. However, that's a problem. "The only thing worse than a cancer diagnosis is a growing-up diagnosis," she writes. Her mother's love is contingent on Jennette remaining a waifish actress. Her mother, with disturbing glee, told Jennette there IS a way to stay small:
"There's a secret thing you can do . . . it's called calorie restriction."
Thus begins her troubled relationship with food. Initially she restricted and stayed small. But she was more anxious and always ravenous. Alcohol helped at first; learning to vomit was a quantum leap in the wrong direction. Her body size fluctuated from a kid's size 10 to an adult size 6. She hated herself and couldn't stop. The low point occurred while flying to Australia, vomiting in the gray airplane toilet, and seeing her lower-left molar in the residue.
Jennette's extreme symptoms leave the reader with a sense of hopelessness about her capacity to recover. Ultimately, therapy and behavior modification start the healing process. Unfortunately, she would likely have continued her pathological thinking and behavior if her mother had not died.
*Editor's note: See The Carlat Psychiatric Report, February 2023, Anorexia: An Update for the Psychopharmacologist.