Clozapine: A Fresh Look
The Carlat Psychiatry Report, Volume 16, Number 3, March 2018
https://www.thecarlatreport.com/newsletter-issue/tcprv16n3/
Several trials show it to be a superior treatment option, yet clozapine remains the "red-headed stepchild" of antipsychotics. Even though large studies reveal clozapine has impressive efficacy, particularly with treatment-resistant schizophrenia, many of us are reluctant to use it.
According to one study, of the 30% of patients who have treatment-resistant schizophrenia, just 5% are put on clozapine (Olfson M et al, Psychiatr Serv 2016;67(2):152). And, before turning to clozapine, some psychiatrists will try a dozen other atypical antipsychotics and antipsychotic polypharmacy.
So, why is there reluctance to prescribe this highly effective antipsychotic? There's likely more than one reason. Many of us are justifiably concerned about clozapine's serious potential side effects, which can include neutropenia, myocarditis, seizure, fecal impaction, and cardiomyopathy. We may also hesitate to choose clozapine because of the extra time and perceived inconvenience involved in lab monitoring, patient education, and extra required training (REMS certification) for prescribers.
For those reluctant to make clozapine their go-to antipsychotic for certain patients, this article will provide information to help you decide when it's right to prescribe.
How effective is clozapine?
In 1989, clozapine—which is also marketed as Clozaril—was the first FDA-approved atypical antipsychotic for schizophrenia. It is indicated for treatment-resistant schizophrenia, and for reducing the risk of suicide in patients with schizophrenia and schizoaffective disorder.
But is clozapine really more effective than other antipsychotics? Clozapine was first shown to be superior to chlorpromazine (Thorazine) in patients who had inadequate response to at least 3 first-generation antipsychotics (Kane J et al, Arch Gen Psych 1988;45(9):789–796). At the end of 6 weeks, 30% of patients randomly assigned to clozapine (n = 126) responded, as opposed to only 4% of those randomized to chlorpromazine (n = 142). That's a large difference, and since then other trials have gone on to report clozapine's superiority in treatment-resistant schizophrenia compared with other antipsychotics, such as haloperidol, olanzapine, quetiapine, risperidone, and ziprasidone. In addition, large effectiveness trials and population-based registry studies have demonstrated clozapine's superior efficacy and increased patient adherence compared with both FGAs and SGAs.
Clozapine is one of only a few drugs proven to decrease suicide risk. In a 2-year randomized controlled trial comparing clozapine with olanzapine (Zyprexa), clozapine was shown to significantly decrease suicide attempts, hospitalizations due to suicide, and suicide prevention treatment and interventions (Meltzer HY et al, Am J Psychiatry 2003;60(1):82–91).
Which patients are right for clozapine?
All treatment guidelines for schizophrenia recommend clozapine after inadequate response to at least 2 antipsychotics. For patients who are extremely aggressive or suicidal, the APA treatment guidelines state a trial of clozapine may be reasonable as a first- or second-line antipsychotic.
Table: Clozapine At A Glance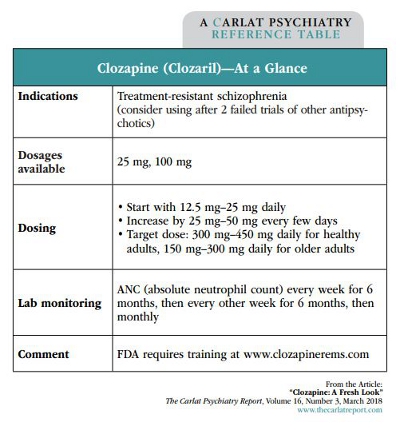 How to prescribe clozapine
Educate your patients. The first step is achieving buy-in from your patient and the family. You'll need to give adequate disclosure about potential side effects, but this doesn't have to be a long speech.
Introduce the use of clozapine with a discussion about how other medications haven't been completely effective. Tell patients, "I know the medications you've tried haven't completely helped you. Clozapine is a medication that is more effective for people when other antipsychotics haven't worked. It has a bunch of side effects, but we can monitor for them. Should we try it for a little while? If it works, I think you might decide that the side effects are worth putting up with." Then, review the specific side effects and monitoring process (see table on page 3).
How to dose clozapine. Start with a low dose of 12.5 mg–25 mg a day to minimize side effects. Increase the dose by 25 mg–50 mg every few days. Dividing the dose into twice or 3 times daily can help minimize sedation and orthostasis. The initial target dose is 300 mg–450 mg daily in healthy adults, and 150 mg–300 mg daily in older adults. Once the titration is complete, all or most of the clozapine can be given at night to help with adherence.
Some experts believe that following clozapine serum levels is helpful in titrating the dose. Guidelines vary, but one common approach is to shoot for a serum concentration of 250 ng/mL–350 ng/mL of clozapine. If a patient isn't responding at that dose, aim for a serum level of 350 ng/mL–450 ng/mL. Since the seizure risk increases with higher clozapine concentrations, avoid going above doses of 600 mg/day (Xiang YQ et al, Schizophr Res 2006;83(2-3):201–210), or consider adding divalproex sodium.
Many patients with schizophrenia smoke cigarettes, and smoking decreases clozapine levels by inducing the main enzyme that metabolizes the drug, CYP450 1A2. For patients who smoke, the doses recommended above are still reasonable for an initial target dose, but higher doses may be necessary. Also, smokers who are stabilized on a dose in the hospital may need an upward dose adjustment once they are discharged and resume smoking.
Clozapine monitoring and prescriber training
Don't be intimidated by the monitoring requirements for clozapine. The latest changes make prescribing the drug easier, not harder.
Before 2016, you had to order a WBC and ANC. You also had to keep track of the absolute values and changes in WBC and ANC over time. Since then, monitoring has become much easier. Now you need to monitor only the ANC every week for 6 months, then every other week for 6 months, and then monthly thereafter. Continuation of clozapine is based on the absolute ANC value, not changes in ANC over time.
Before you can prescribe clozapine, you must complete an enrollment form, course, and quiz online, all of which can be found at www.clozapinerems.com. The entire process usually takes less than an hour.
Table: Managing Clozapine Side Effects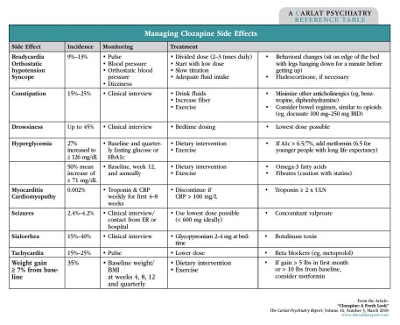 Managing clozapine side effects
The most common side effects are weight gain, hypersalivation, sedation, orthostatic hypotension, and constipation. See the table on page 3 for some advice on how to approach these problems.
In addition to these common side effects, there are a few rare but serious side effects—neutropenia is one of them. Myocarditis/cardiomyopathy is very rare, and there is no agreed-upon monitoring for it, but some experts recommend that you get troponin and CRP (c-reactive protein) levels weekly for the first 8 weeks. This represents an abundance of caution and is not commonly done.
Seizures are rare and can be dose related, with doses greater than 600 mg daily associated with significant increased seizure risk: 4.2% vs 2.4% (Grove S, East Asian Arch Psychiatry. 2015;25(2):73–78). Having an anticonvulsant like divalproex on board helps minimize the seizure risk with higher clozapine doses.
Since clozapine can cause significant constipation, routine questioning about bowel habits is important. Consider initiating a preventive bowel regimen, including a stool softener, like those used with opioids. You should also make patients aware of other side effects, such as hyperglycemia, hypertriglyceridemia, and tachycardia. If sedation is a problem, the dose can be given mainly at night.
Sialorrhea is a particularly annoying side effect. Treatment approaches include sugarless gum, anticholinergics such as glycopyrrolate, sublingual ipratropium spray, and alpha-2 agonists (eg, clonidine). Keep in mind that all these medications can themselves lead to more side effects. One novel treatment to consider is botulinum toxin injections in the bilateral and submandibular glands. Some case reports indicate benefit for antipsychotic-induced sialorrhea (Steinlechner S et al, Psychopharmacology 2010;207(4):593–597). For some additional resources, including discussions by patients who take clozapine, see: http://practiceinnovations.org/Consumers/Medication-and-Medication-Side-Effects.
TCPR Verdict: About a third of your patients with schizophrenia will be treatment resistant and should have a trial of clozapine—make sure it happens!