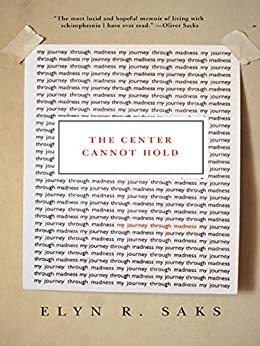 The Center Cannot Hold: My Journey Through Madness
by Elyn R Saks. Hatchett Books, 2007.
This is the first of a series of reviews about popular science books, written for the general public but relevant to psychiatrists. This is more than a book club. It is a peer review of books we endorse as valuable collections. Not only are they good reads; they earn the "Psychiatry Seal of Approval." Our aim is to find great books and review them for accuracy, educational value, and the quality of the story. The books we will cover offer well-researched, detailed tales about patients we'll probably never see in our careers (practice gaps) or tell of patients who respond to treatments other than our usual approaches (knowledge gaps).
Dr. Whisler: 
We chose this memoir because the author's diagnosis of schizophrenia is familiar to psychiatrists; however, her individual journey serves as a foil to the generally accepted stigmatizing narrative of the patient with schizophrenia.
Dr. Saks' journey is one of deep emotion, struggle, and repeated rupture and repair. It is also a unique story of the experience of psychosis. From early childhood, Saks describes intense fears, with extreme self-consciousness, an abnormal extension of typical worries into adolescence, and a progressive estrangement from the world. As she grows into adulthood and grapples with her symptoms, there is an overarching theme of fear, not only of others, but of herself. Decades of media focus on violent "schizophrenic patients," and observations of the unpredictable nature of individuals in active psychosis, have contributed to the publicly accepted persona of the frightening patient with schizophrenia. However, Saks turns this construct on its head and shows the reader time and again how terrified and profoundly isolated she is, even in moments when others appear to fear her. The fear is so deep that Saks ultimately describes the experience of psychosis as a trauma. 
Despite clear external observations of herself, including descriptions of being physically restrained, muttering to herself, and behaving bizarrely, her internal monologue is one of confusion and hopelessness as she is unable to hook into an identity. Is she ill or is she an academic, a student or patient? Much of Saks' life is spent attempting to integrate these parts of herself. She consistently falls back on what she is good at and clings to her academic successes, using her drive and prowess as a student and acknowledging her stubborn temperament as important factors to keep her moving forward.
In a poignant revelation, Saks recounts the sadness of finally accepting what doctors have been telling her for decades: she's mentally ill and must remain on medicine.  We often see patients who are somewhere along this spectrum, but we rarely see the whole journey from denial to acceptance.
Perhaps of particular interest to psychiatrists is the evolution of her mental health treatment over several decades. While a student at Oxford, Saks began seeing an analyst, which remained part of her treatment through the end of her book. Despite seeing multiple therapists with diverging styles and returning to the medication-centric United States, Saks credits much of her recovery to the ability to remain in consistent psychoanalysis. At different times in her life, therapy served as a safe space for her delusions or a place to confront what her delusions were defending. What it always provided was an opportunity for human connection. That is the crux of Saks' story. A multitude of factors converged to enable her recovery; however, she always returned to the people in her life whose love, support, and acceptance of her most authentic self, saved her. 
Dr. Higgins: 
Evidence-based medicine is the gold standard in medical treatment, but the data neglect the human side of illness. Good stories, on the other hand, show the clinical significance behind the statistics. The Center Cannot Hold is a story that cannot be told with bar graphs and tables. Elyn Saks' memoir of her life with schizophrenia is an engaging story that challenges our understanding of this disorder. 
Positive symptoms, negative symptoms, and cognitive impairment—this is a constellation of symptoms for the vast majority of patients with schizophrenia. Saks tells of numerous instances in which she is floridly psychotic and disorganized, with primarily delusional thoughts (eg, aliens in the sky were poisoning her; one of her professors was God; she had killed many children). She was hospitalized for many months on several occasions and diagnosed with schizophrenia or schizoaffective by several well-studied psychiatrists. Her symptoms required high doses of antipsychotic medication—36 mg thiothixene, later 40 mg olanzapine, and after that 600 mg clozapine. She was frequently asked her doctors to lower her dose and, on those occasions, when they reluctantly agreed, she rapidly deteriorated. 
Yet, when properly medicated, her cognitive functions are extraordinary for someone with her disorder, evidenced by a law degree from Yale, earning tenured professorship of law at University of Southern California, and receiving a MacArthur Foundation fellowship (I'd be thrilled with any one of those!). Furthermore, she develops and maintains strong, mutually engaging, social connections.  In considering her trajectory, it is important to note she does not have negative symptoms of schizophrenia (for those who doubt, she shows her expressiveness in her Ted Talk titled A Tale of Mental Illness—From the Inside). Many readers will think she was misdiagnosed. In the final chapter, she presents a smart defense of her diagnosis.
The paradox of her condition might best be summed up with this vignette: before her wedding to a man she loves, sitting with a dear friend from law school that she'd been in close contact with for 20 years, she asks him, "Will aliens be attending the reception?" She was not joking. 
For those interested in purchasing the book, click here.